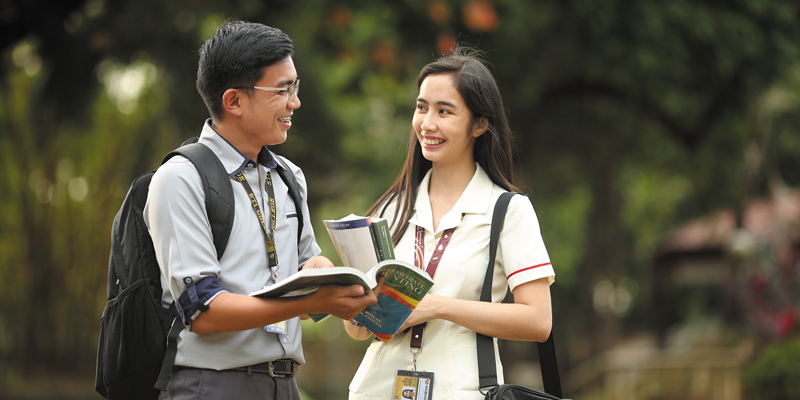 Educational Grant Program
About
The AFPSLAI Educational Grant Program caters to the educational needs of dependents of AFPSLAI Regular Members in need of financial assistance to pursue and complete tertiary education, giving priority to dependents of deceased AFPSLAI Regular Members.

Though the Program replaces the AFPSLAI Scholarship and Educational Assistance Program (SEAP), it will still provide its grantees the opportunity for education tuition through payment of tuition and miscellaneous fees, monthly stipend, books and board & lodging expenses.


Qualifications
Sponsor
Must either be a:

Regular member of AFPSLAI; or
Deceased and former regular member of AFPSLAI

With an aggregate annual family income not exceeding ₱950,000
Sponsor (if not deceased) and spouse (if a member) must be in good standing with AFPSLAI
Applicant
Legitimate / Illegitimate or legally adopted child of married / unmarried sponsor
In the absence of children, legitimate / illegitimate or legally adopted brother or sister of single / unmarried sponsor
Must be an incoming first year college student
Requirements
Philippine Statistics Authority (PSA) certified Death Certificate of sponsor (if applicable)
Proof of highest educational attainment such as report cards, true copy of grades / transcript of records duly certified by the school principal / registrar
Copy of entrance examination result or certificate of acceptance from the school he / she is interested to enroll in
Certificate of Good Moral Character from the high school principal
PSA-certified Birth Certificate of applicant or in the absence thereof, certification from the Local Civil Registry regarding the loss, destruction or absence of registry records and affidavits of two (2) disinterested persons who have knowledge of such birth and parentage of the applicant
Barangay (with no derogatory record) or Police or NBI Clearance of the applicant
Latest payslip / Certificate of Pension (COP) and Income Tax Return (ITR) of the following:

If sponsor is parent, payslip / COP and ITR of both parents
If sponsor is sibling, payslip / COP and ITR of sponsor and both parents

PSA-certified Certificate of No Marriage (CENOMAR) and Affidavit of No Child, if sponsor is sibling
Marriage Certificate of spouse (as applicable), if sponsor is former AFPSLAI Regular Member who is now deceased
Benefits and Privileges
Tuition / Matriculation / Other Fees

Not exceeding ₱30,000 per school term
Not exceeding ₱10,000 per summer/midyear, as required by the curriculum

Book Reimbursement

Not exceeding ₱2,000 per school term

Stipend
Board and Lodging Assistance

Not exceeding ₱2,000 per month (for those who are enrolled in a state college or university; only when necessary)

ROTC Incentive

₱2,000 per month within the term where the ROTC Program was enrolled
Downloadable
FAQs
Q: Are there only specific courses allowed to be taken by a grantee in order to be part or maintain his/her grant with AFPSLAI?
A: EGP covers any baccalaureate courses, provided that said courses are accredited and offered by the schools/universities recognized by CHED.

Q: Can a grantee have another scholarship grant together with his/her AFPSLAI grant?
A: While a grantee of AFPSLAI, he/she should not be a recipient of any grants from other institutions except if scholarship/discounts are provided by the school, usually as a result of meeting certain requirements/qualifications (e.g. Dean's lister, etc.).

Q: Do you accept documents that are NSO certified (e.g. Birth Certificate, etc.)?
A: Documents such as Birth Certificate must already be Philippine Statistics Agency (PSA) certified. NSO certified documents are not acceptable.

Q: Once an applicant has met all the requirements and has submitted all the documents needed, is he/she already guaranteed of a slot in the program?
A: Submission of complete documentary requirements before the set deadline does not guarantee a slot in the program as all applications will be subject to assessment of the Academic Committee and slots will be filled up based on existing criteria as stipulated in the policy.

Q: My brother/sister was a grantee of AFPSLAI before. If I will apply for the program, will I still be considered?
A: The program only allows one (1) grantee per sponsor/family, hence, you are no longer eligible/qualified for the program.

Q: Are grantees required to maintain a certain grade or grade point average?
A: Grantees are not required to maintain a certain grade or grade point average but are required to pass all their subjects. If a grantee fails in any of his/her subjects for the first time, he/she will be put on probation during the succeeding school term. Second time a grantee gets a failing grade, he/she shall be terminated from the program.