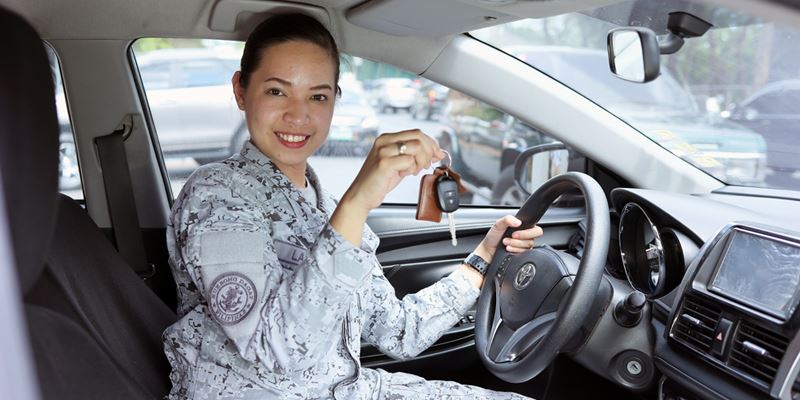 Pre-Owned Vehicle Loan
ELIGIBILITY:


All Regular and Associate members of AFPSLAI who have complied with the requirements of the Pre-Owned Vehicle Loan and who have sufficient CCA/SD002 balance which they can offer as guarantee for the loan.

FEATURES:
Covers the purchase of pre-owned vehicles (sedans, SUV, AUV, Vans LCV, high-end motorcycles and other vehicles similarly classified) from either an accredited dealer or individual seller.
Minimum loanable amount: ₱200,000
Maximum Loanable amount shall be equivalent to the lowest of these three (subject to ceiling of ₱1.2M):

selling price;
70% of appraised value of the collateral; or
the amount applicable to the borrower's paying capacity

Loan term: 12 to 60 months.
Maximum term shall be regulated based on the age of the vehicle being financed such that the subject vehicle must not be more than 10 years old upon the target maturity.
Requirements (click to view the documentary requirements)
MAIN REQUIREMENTS :


Filled-up Loan Application Form and Promissory Note
One (1) 1x1 latest ID picture
Service ID/Pensioner ID and AFPSLAI ID
Marriage Contract (if married)
Photocopy of seller's valid ID (for individual seller)
OR/CR of subject vehicle
Official Receipt of 30% equity payment to dealer (after loan approval, prior to release)
OTHER DOCUMENTS, if applicable :
LTO Stencil of the unit (if through CCA)
CCA/SDA Passbook and Deed of Assignment/Authority to Deduct from CCA/SDA (for payment through Auto Debit from CCA/SDA)
Two (2) latest original or printed online payslip and ITR for the past 2 years / Pension Certification (for payment through Salary/Pension Deduction)
Three (3) months' payslip, COE and ITR for the past two (2) years (for payment through PDCs for employed Associate Member)
ADDITIONAL DOCUMENTS AS REQUIRED BY EACH BOS/PAYJUR (for payment through Salary/Pension Deduction) :
GHQR

Pension ATM card (optional)
Retirement Order and/or Declaration of Legal Beneficiary



PN, PA, PCG, GHQ Active (to include PMA, PSG, VLUNA)

Appointment Order/Re-enlistment Order/ETAD/Re-appointment Order
Any 1 clearance (Unit, JAGO, or Certification of Status or its equivalent)



PAF

Willingness to Re-enlist
Provost Marshal Clearance or IG Clearance
Spouse Consent (if married)/Certificate of Singleness (if single)



PNP, BJMP

Certificate of Non-pending Case
Duty Status



BFP, BFPR

Certificate of Non-pending Case
Two (2) government-issued ID (photocopy), affix three (3) signatures (in the absence of Service/Pensioner ID)




NOTE: Other AFPSLAI requirements will be provided/processed by the Branch (such as LOG, Chattel Mortgage, Encumbrance of OR/CR, CRI, Comprehensive Insurance, Appraisal, etc.) and associated fees to be shouldered by the member-borrower, if any.
INSTRUCTIONS:
To know your monthly amortization:
Enter the selling price of the vehicle.
Enter you desired down-payment (minimum of 30% of selling price).
Select the number of years you want to amortize your loan.
Click "COMPUTE" to know your monthly amortization or "RESET" to clear entries.
Please note that the computation above is only indicative. You may call us or visit any AFPSLAI Branch nearest you for the actual details.
Procedures
Borrower submits duly accomplished LAF, Promissory Note, ATD, MRI and Comprehensive Insurance (CI) application form, and pays the required appraisal fee.
If submitted documents comply with all the requirements, Loan Specialist proceeds with the processing of loan.
Loans Specialist coordinates with the car/vehicle dealer
AFPSLAI conducts credit evaluation (background check and credit investigation) and appraisal.
Upon approval of the loan, Loans Specialist coordinates with the accredited vehicle dealer of the approval and coordinates the release of the vehicle upon issuance of Letter of Guarantee (LOG).
Loans Specialist requires the borrower to sign Deed of Chattel Mortgage (to be notarized) and collects payment for MRI, Comprehensive Insurance, DST, Chattel Mortgage and Encumbrance fees.
Loan Specialist prints Loan Release Sheet and Disclosure Statement (LRS or drawdown) for member-borrower's acknowledgement.
Vehicle dealer releases the vehicle.
FAQs
Q: Can we purchase any second-hand vehicles?
A: Member may source his pre-owned vehicle from AFPSLAI accredited car dealers of from individual sellers, subject to appraisal by any of the accredited appraisers of AFPSLAI.
Q: Are the specific conditions on the vehicle acquired?
A: Vehicle must not be more than 10 years upon target loan maturity, reckoned from the year model of the vehicle as reflected in the Certificate of Registration. Maximum term of shall be regulated based on the age of the vehicle being financed.
Q: What is the mode of payment?
A: The acceptable modes of payment are the salary/pension deduction and auto debit from borrower's CCA/SDA02 account.
Q: What are the applicable fees?
A: The loan shall be subject to charge as follows, which shall be borne by the borrower; Appraisal Fee, Comprehensive Insurance, Mortgage Redemption Insurance, Documentary Stamp Tax, Encumbrance Fee and Chattel Mortgage Fee.