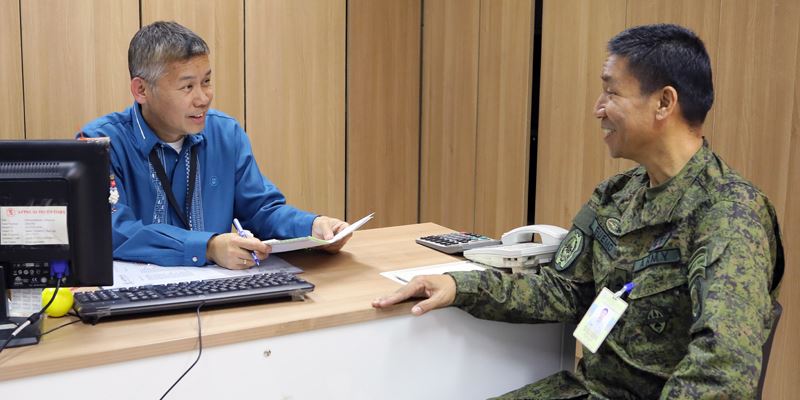 Back-to-Back Loan
ELIGIBILITY:


Open to all AFPSLAI members who have an available balance of at least ₱10,500 in their Capital Contribution Account (CCA)

FEATURES:
*inclusive of the interest due the loan applied for
REQUIREMENTS:
AFPSLAI ID or any governmentissued photo ID
AFPSLAI CCA Passbook being used as collateral
AFPSLAI SDA Passbook if loan proceeds is credited to the account
Duly accomplished Loan Application Form
Promissory Note with Assignment of Capital Contribution and Authority to Deduct
Special Declaration of Account Ownership (for joint accounts)
MODE OF PAYMENT
Default mode of payment: account offsetting
Other mode of payment:

Over the counter payment through cash or cheque
Offsetting from any other account owned principally by the borrower (Savings Deposit, Time Deposit, SD Remittance Accounts)

Payment must be made within the business hours if actual payment is not through account offsetting.
Cheque payment should be cleared upon loan maturity.
INSTRUCTIONS:
To know the interest amount of your loan:
Enter your desired loan amount.
Select the number of years you want to amortize your loan.
Click "COMPUTE" to know your monthly amortization or "RESET" to clear entries.
Please note that the computation above is only indicative. You may call us or visit any AFPSLAI Branch nearest you for the actual details.
Procedures
Borrower submits LAF and requirements.
If submitted documents comply with all the requirements, Loan Specialist proceeds with the processing of loan (new/renewal).
Upon approval of the loan, borrower proceeds to the Releasing Section/Tellering Section for the release of his/her loan proceeds through cash, his/her Savings Deposit Account (SD-02) or through Remittance Facility.
Borrower receives his/her loan proceeds.
Borrower signs the Loan Release.
FAQs
Q: What will happen if I fail to pay the interest/principal amount or renew my Back-to-Back Loan upon each maturity?
A: The entire loan amount, plus interest, will be offset from your Capital Contribution Account (CCA).
Q: What amount is subject to DST?
A: All loans above Php 250,000 is subject to DST.
Q: What will happen if the maturity date was suddenly declared as non-working day?
A: The maturity date shall be adjusted on the next available working date, provided that the extended term will not exceed 365 days. Term extension for reasons due to sudden declaration of a non-working day, which is deemed beyond the control of the client, shall be without cost to the client concerned.
Q: How do you compute for the interest due?
A:

| | |
| --- | --- |
| Interest Due BTB = | (P) X (R) X (T) |
| | 365 days |
P = loan principal applied for
R = applicable interest rate
T = term of loan
Q: What is the computation for pre-termination fee?
A: Pre-Termination Fee (PTF) = (Full Interest Due – Actual Interest Due) x Pre-termination fee factor