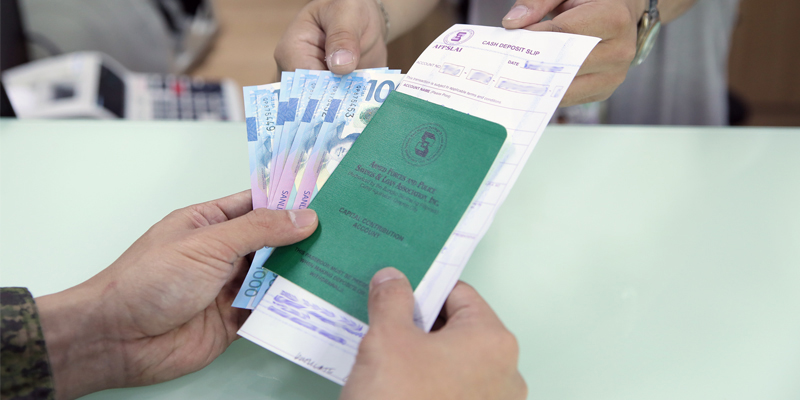 Great News to All AFPSLAI Regular Members
Quarterly placement for Capital Contribution Account (CCA) is now increased to ₱150,000! Terms & Conditions:
Implementation of new placement limit starts in October 2019
Valid only through salary or pension deduction
Maximum quarterly CCA placement limit is inclusive of over-the-counter deposit of ₱15,000
Save money. Save time. AUTOMATE YOUR SAVINGS NOW! For inquiries, you may visit any AFPSLAI Branch or Extension Office nearest you!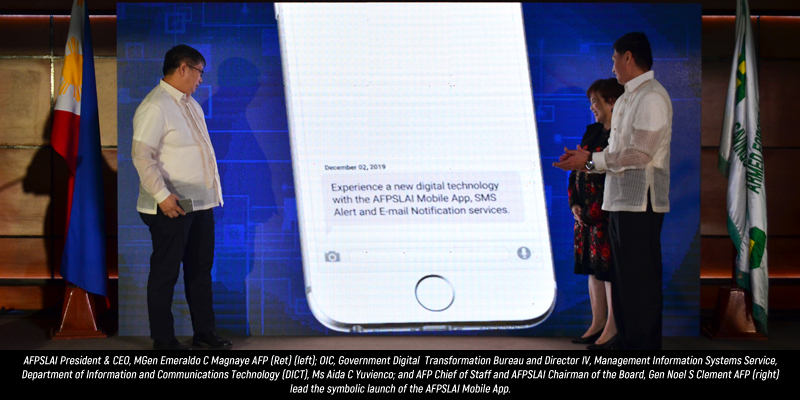 AFPSLAI Celebrates 47th Anniversary with Launch of New Services
On December 2, 2019, the Armed Forces and Police Savings & Loan Association, Inc. (AFPSLAI) celebrated its 47th Founding Anniversary with the theme, "Fostering Innovation through Digital Transformation".
One of the highlights of the celebration is the launch of the AFPSLAI Mobile App that will allow members to monitor their deposit and loan balances, view recent transactions, apply for loans and open a savings deposit account. Aside from the convenience the App provides, it also helps members to have better control of their finances.
AFPSLAI has also announced the availability of its enhanced SMS and e-mail services. With the upgraded versions, members will now be able to receive SMS alerts on their withdrawal and loan transactions, promos, and other advisories. Those who will register their e-mail addresses will be able to receive important advisories, promos, latest news, and letters pertaining to the status of their loan and deposit accounts.
Members must personally fill-out the Registration Form at the nearest Branch Office to be able to download and to access the AFPSLAI Mobile App; to receive alerts thru SMS; and to receive e-mail. Members whose membership record have not been updated for at least three years need to update their membership prior to registration.
For these services, AFPSLAI tied up with technology partners, Consolsys and Infobip.
The program was also highlighted by the recognition of the awardees of the Excellence Awards for 2019.
Present during the program were Director of Management Information Systems Service, Department of Information and Communications Technology and the Officer-In-Charge of the Government Digital Transformation Bureau, Director Aida C Yuvienco; AFP Chief of Staff and AFPSLAI Chairman of the Board of Trustees, Gen Noel S Clement AFP; Vice Chairman MGen Romeo D Lustestica AFP (Ret); other members of the Board of Trustees, Guests, and Head Office and Branch Office managers, supervisors and personnel.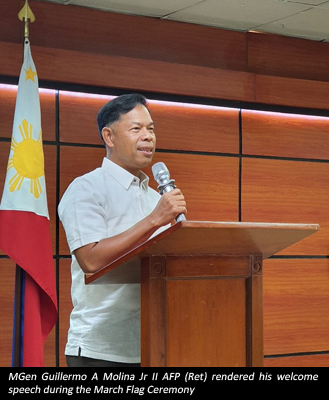 AFPSLAI Recognizes Outstanding Employees and Branch of the Year
AFPSLAI promotes a culture of excellence not only for its members, but also for its employees. The sustained success of the Association is significantly credited to its workforce. Thus, awards were conferred to deserving employees during the formal program of AFPSLAI's 47th Anniversary on December 2, 2019.
The Outstanding Civilian Field Representative (CFR) of the Year award recognizes the deserving CFRs who have contributed to the overall net loan production of their respective areas/branches.
Qualified candidates for the Employee, Supervisor and Manager of the Year were evaluated based on the following parameters: Commitment & Dependability, Feedback, Significant Accomplishments, and Personality & Work-Life Balance. The recognition is given to employees for their exemplary performance insofar as personnel, operational and model administrative management of their unit/individual tasks is concerned, thereby contributing invaluably to the overall success of the Association.
Lastly, the Outstanding Branch Office of the Year recognition is bestowed to the deserving branch office's exemplary contributions to the Association's overall objectives in the pursuit of operational and service excellence.
The following are the list of winners of AFPSLAI Excellence Awards 2019:
MS JENNIFER T GABAS – CFR of the Year 2019
MS ROSALINA I GUMABAY – CFR of the Year 2019 - 1st Runner-up
MS NERISSA U DIMAANO – CFR of the Year 2019 - 2nd Runner-up
MS EMELYN V DASIG – Employee of the Year 2019 (Head Office Category)
MS CAMILLE Q PINEDA – Employee of the Year 2019 (NCR/Luzon Branch Office Category)
MS ANALYN D ALVEZ – Employee of the Year 2019 (Visayas/Mindanao Branch Office Category)
MR ARMAND G JUELE – Supervisor of the Year 2019 (Head Office Category)
MR AXEL G GRAJALES – Supervisor of the Year 2019 (Branch Office Category)
MS MA EVELYN A CORPUZ – Manager of the Year 2019 (Head Office Category)
MS JOYCE R VALIENTE – Manager of the Year (Branch Office Category)
PALAWAN BRANCH – Branch Office of the Year 2019
BUTUAN BRANCH – Branch Office of the Year 2019 - 1st Runner-up
ILOILO BRANCH – Branch Office of the Year 2019 - 2nd Runner-up
Congratulations to all the Excellence Awardees!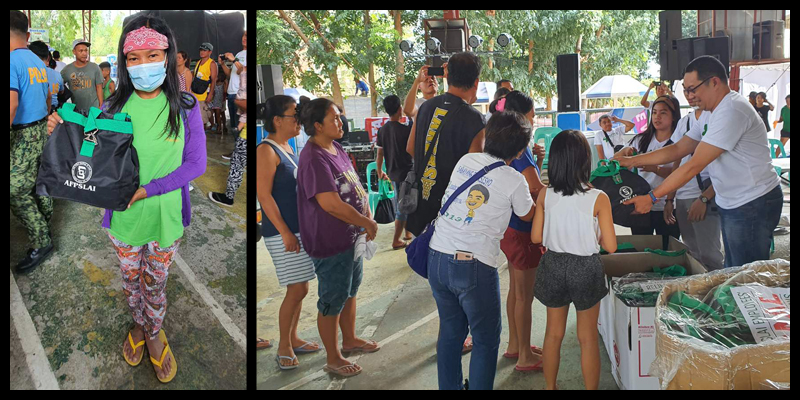 AFPSLAI Scholars Soaring High!
Four (4) AFPSLAI Scholars are now registered professionals as they passed their respective licensure exams.
AFPSLAI scholar-graduates Mr Ferdinand B Llasos Jr of Central Mindanao University and Ms Sheena Jane V Ornido of Lyceum of the Philippines University – Manila are now licensed professionals. Mr Llasos is now a certified public accountant while Ms Ornido is a registered customs broker. Both scholars graduated Cum Laude.
Ms Ma Uly-Kristina E Morota of Centrol Escolar University – Makati passed the Psychometrician Licensure Examination held in October 2019.
On the other hand, Iloilo Doctors' College graduate Ms Dane Tennessee P Muares is a registered nurse after she passed her licensure exam in November 2019.
AFPSLAI is just as proud as the families of these scholars who pursue excellence in their chosen fields. Congratulations and may you serve as inspiration to our existing scholars!