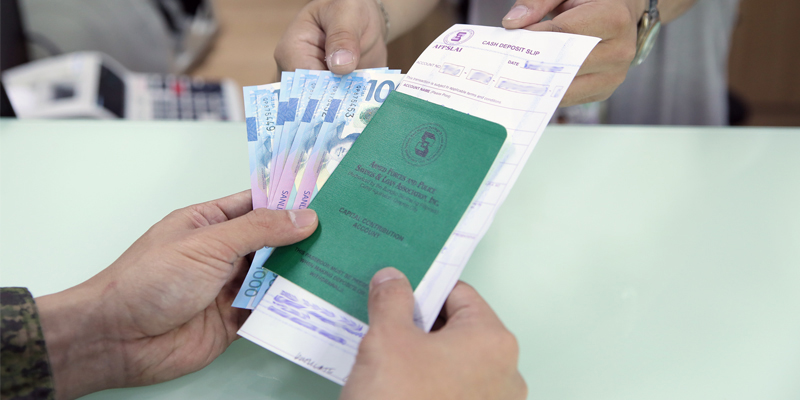 Great News to All AFPSLAI Regular Members
Quarterly placement for Capital Contribution Account (CCA) is now increased to P150,000! Terms & Conditions:
Implementation of new placement limit starts in October 2019
Valid only through salary or pension deduction
Maximum CCA remittance is inclusive of over-the-counter deposit of P15,000
Save money. Save time. AUTOMATE YOUR SAVINGS NOW! For inquiries, you may visit any AFPSLAI Branch or Extension Office nearest you!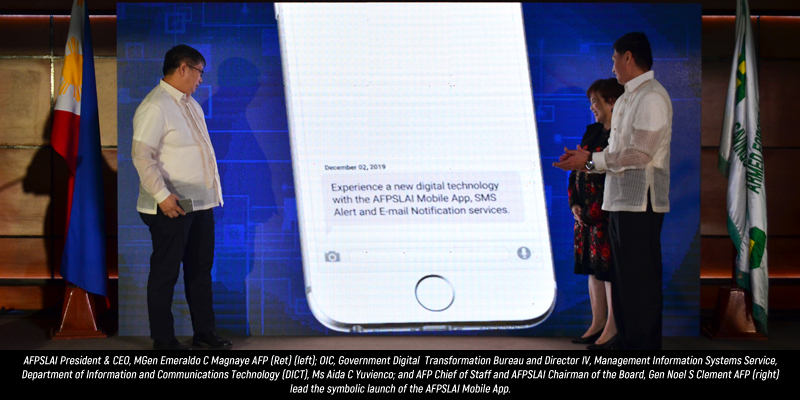 AFPSLAI Honored by PNP, Hands Over Donation of Ambulance and Emergency Room
The Armed Forces and Police Savings & Loan Association, Inc (AFPSLAI) received a Plaque of Recognition from the Philippine National Police (PNP) on August 30, 2019 during the PNP's 26th Health Service Anniversary Celebration held at the PNP Multi-Purpose Hall, Camp Crame, Quezon City. AFPSLAI President & CEO MGen Emeraldo C Magnaye AFP (Ret) received the award from Chief, PNP, PGen Oscar D Albayalde; Director, Health Service, PBGen John D Luglug; and other PNP Officers. The award was given to AFPSLAI in recognition of its contributions to the effective attainment of PNP Health Service's mission, goals, and objectives.
The event was followed by the blessing and ribbon-cutting of the newly-renovated Emergency Room and Health Information Management Section (HIMS) of the PNP General Hospital in Camp Crame and the handover of AFPSLAI's donation of one (1) Toyota Hi-Ace ambulance unit. Also present during the ceremony were AFPSLAI Trustees PMGen Edwin C Roque and PBGen Joselito M Vera Cruz; AFPSLAI SVP for Administration, MGen Enrique C Reyes AFP (Ret); and AFPSLAI SVP for Treasury, PBGen Roberto L Aliggayu (Ret).
The P5.68M Emergency Room renovation project and donation of ambulance highlight AFPSLAI's commitment to providing quality health care services to the men and women of the PNP and their dependents.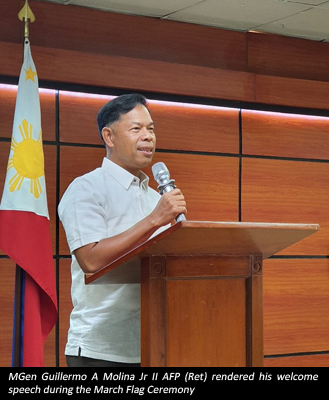 AFPSLAI CSR: Medical Mission of Legazpi Branch
AFPSLAI Legazpi Branch, in partnership with Tactical Operations Group 5 (TOG5) conducted Medical Mission in Brgy Matanag, Legazpi on September 14, 2019. The event, a pre-anniversary activity of TOG5, was also participated by other private and government agencies.
On its part, AFPSLAI provided medicines for common illnesses and multivitamins for both children and adults. Bags of rice (5kg per bag) were also provided for the participants giving priority to senior citizens and differently-abled persons. Meals were also provided by AFPSLAI for the medical team.
Doctors from Philippine Coast Guard and Rotary Club of Metro Legazpi provided medical consultations to attendees, while the Philippine Navy and Bureau Fire Protection, Albay conducted free dental services. They also shared the importance of proper dental care to patients and their families. Dios Mabalos Po Foundation gave free eye check-up and eyeglasses, while Bicol University Nursing students conducted blood pressure tests. Philippine Red Cross donated relief goods, hygiene and first aid kits for emergency preparedness of the residents especially those in the vicinity of Mayon Volcano. National Nutrition Council, on the other hand, conducted lectures about physiological adjustments, nutritional requirements and dietary supplements to pregnant and lactating mothers.
Other agencies that participated were Junior Chamber International (JCI) Daraga, Mercury Drug, Boysen, Kapit-Kamay Albay Foundation, SM Foundation, Inc., TESDA Albay and 89.1 Bicol Idol FM Legazpi.
The Medical Mission was quite an early Christmas gift to the residents of Brgy Matanag, Legazpi City. Around 500 residents of the Barangay participated in the event.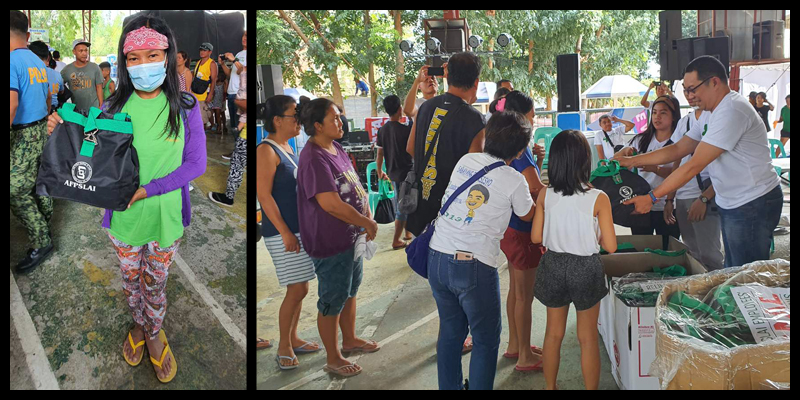 NOTICE TO ALL MEMBERS: Termination of Membership
Pursuant to Article XI, Sections 4 and 5 of the amended AFPSLAI By-Laws and its implementing rules and regulations, AFPSLAI shall be terminating the membership of those who:
failed to update their membership records for at least ten (10) years; and
are still categorized as cadets/probationary officers but have long been separated from the academy/training school for reasons other than graduation or complete disability discharge (CDD) leading to becoming a pensioner.
A. Non-updating of Records for at least 10 Years
Membership termination of principal members shall mean automatic termination of the associate membership of their dependents.
Should the associate members be the ones subject to termination, the principal members could retain their membership if their accounts have been updated at least once over the last 10 years.
B. Ineligible cadets/probationary officers
Members are advised to visit any of the AFPSLAI Branch Offices and present appropriate documents to justify their membership retention.
Members who are subject of cleansing may be converted to either regular or be retained as associate members subject to satisfaction of eligibility requirements.
Concerned members should update their membership records not later than December 27, 2019. Membership termination shall commence on January 27, 2020 (Monday). Members whose membership was terminated in accordance with this policy may apply for readmission and shall be treated as new applicants for membership, subject to the same terms and conditions applicable to newly admitted AFPSLAI members.
For more details, visit any AFPSLAI Branch and Extension Office nearest you!