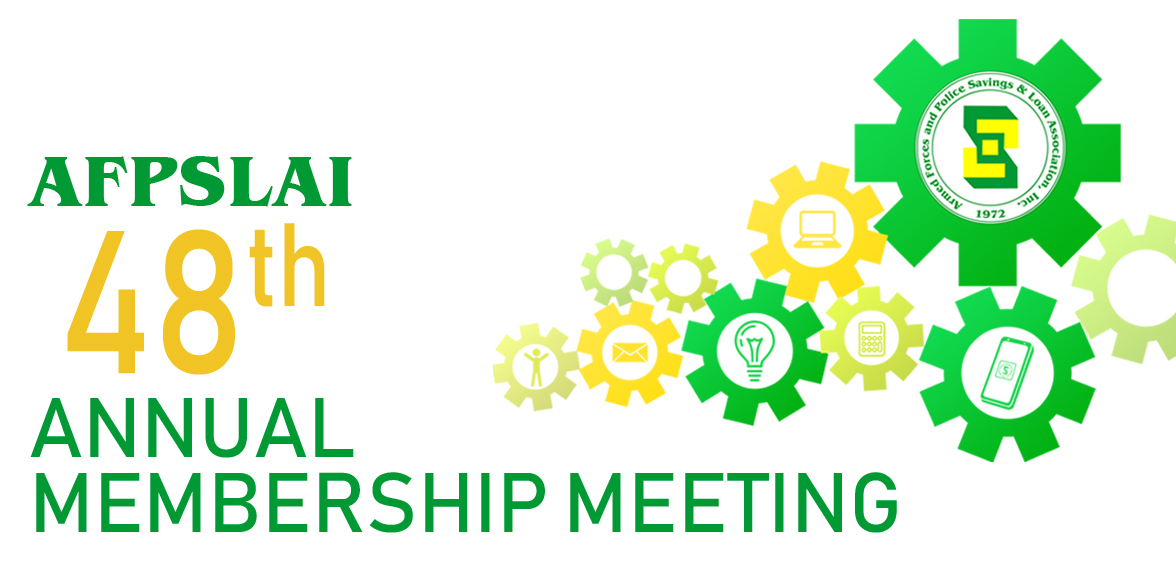 Notice and Agenda of 48th Annual Membership Meeting
In view of the COVID pandemic and the restriction on mass gatherings, the 48th Annual Membership Meeting of the Armed Forces and Police Savings & Loan Association, Inc. (AFPSLAI) will be held virtually on July 25, 2020 (Saturday) at 8:00 a.m.
The agenda for the meeting is as follows:
Call to Order
Proof of Notice of the Meeting
Determination of Quorum
Opening Remarks
Approval of the Minutes of the Previous Annual Membership Meeting held on May 25, 2019
Matters Arising from the Minutes
Report of the President & CEO
Report of the Membership and Amendment Committee
Ratification of the Acts and Resolutions of the Board of Trustees, Corporate Officers and Management
Election of the Board of Trustees for the year 2020-2021
Proclamation of the Winning Candidates
Other Matters
Adjournment
Only Regular members of record as of April 30, 2020 are entitled to participate and vote. Members who intend to attend the meeting are requested to register through the Member Registration System (MRS) located in the AFPSLAI website, www.afpslai.com.ph, until 5:00 p.m. of July 17, 2020. Successful registrations will receive an email, which includes a link to the Member Voting System, member's number of votes, and AMM-related materials.
Due to limitations on available technology, there will be no voting during the actual virtual meeting. Members may vote through proxy or in absentia using the Member Voting System from July 13 until 5:00 p.m. of July 22, 2020. Members may also send their comments and questions through the Member Voting System. Questions will be addressed during the actual meeting. Those that cannot be accommodated due to time constraints will be answered by Management through e-mail.
For those who won't be able to attend the meeting, proxy forms are available in the Branch Offices and may also be downloaded from the website. Duly accomplished form must be submitted in any branch office until 5:00 p.m. of July 17, 2020.
There will be audio and visual recording of the Meeting.
Members seeking nomination to the Board may download the Nomination Form from the AFPSLAI website. Deadline for submission of application is until 5:00 p.m. of July 3, 2020.
For AMM-related inquiries, kindly send them through e-mail at amm@afpslai.com.ph.
ATTY SAMUEL B. PADILLA
Corporate Secretary
---
TERMINATION OF MEMBERSHIP
DUE TO NON-ELIGIBILITY AND BELOW MINIMUM REQUIREMENT FOR CCA
Pursuant to BSP Circular 993, and the AFPSLAI By-Laws (Section 1, Article III and Sections 5 & 7, Article XI) and its implementing rules and regulations, AFPSLAI shall be terminating the membership of those who have failed to provide documentary proofs that they are eligible to become AFPSLAI members and have less than Php 1,000 in their Capital Contribution Account (CCA). The list of members due for termination is listed here.
Concerned members should make a deposit to meet the minimum CCA maintaining balance and submit the following documents to the nearest AFPSLAI Branch Office not later than July 15, 2020 (Wednesday) to avoid membership termination effective July 27, 2020 (Monday):
Acceptable Documents as Applicable

Member Identification

Valid AFPSLAI ID or any 2 valid government-issued photo IDs

Regular Members

Appointment Order (for active police/military)
Retirement Order/ Declaration of Legal Beneficiary (for retired military/pensioner)
Appointment Order or Certification from Admin/ HR/ Personnel Affairs Offices for Civilian Employees or equivalent documents

Associate Members

Copy of birth certificate (child) / marriage contract (spouse)
For PVAO pensioner: Appointment Order or equivalent document
Endorsement Form from Regular Member
Members whose membership was terminated may apply for readmission and shall be treated as new applicants for membership, subject to the same terms and conditions applicable to newly-admitted AFPSLAI members.
---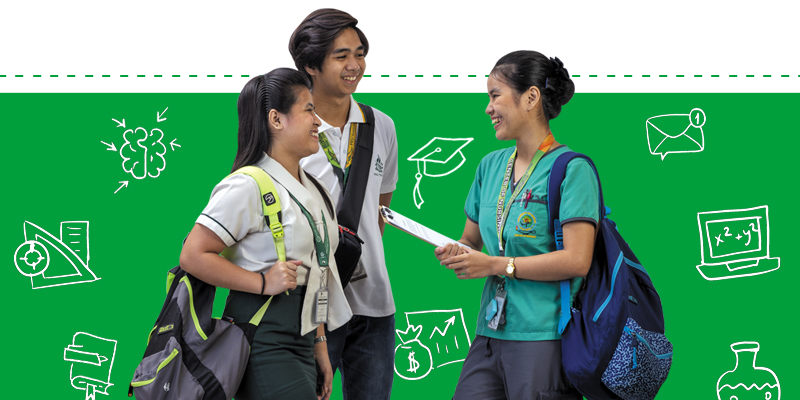 AFPSLAI Now Accepting Applications for Educational Grant Program
AFPSLAI is now accepting applications for its Educational Grant Program (EGP) starting April 13, 2020 (Monday).
The AFPSLAI Educational Grant Program caters to the educational needs of dependents of AFPSLAI Regular Members in need of financial assistance to pursue and complete tertiary education. Under the said program, grantees are provided with benefits and privileges, including payment of tuition and miscellaneous fees, monthly stipend, books and board & lodging expenses.
The following are the qualifications:
Sponsor
Must either be a:

Regular member of AFPSLAI; or
Deceased and former regular member of AFPSLAI

With an aggregate annual family income not exceeding ₱950,000
Sponsor (if not deceased) and spouse (if a member) must be in good standing with AFPSLAI
Applicant
Legitimate / Illegitimate or legally adopted child of married / unmarried sponsor
In the absence of children, legitimate / illegitimate or legally adopted brother or sister of single / unmarried sponsor
Must be an incoming first year college student
Applications must be completed and submitted at the nearest AFPSLAI Branch Office on or before July 15, 2020 (Wednesday).
Full details of the program can be found here.
---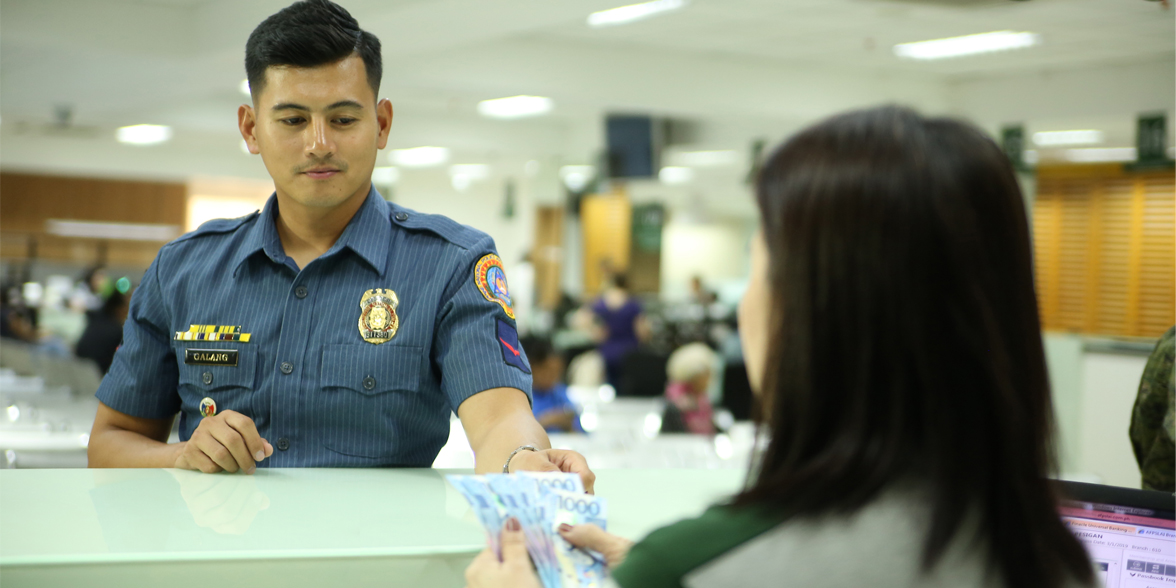 Important Advisory to All AFPSLAI Members
With the extension of the Enhanced Community Quarantine (ECQ) in identified COVID-19 prone areas of the country up to May 15, 2020 while others are placed under General Community Quarantine (GCQ), we understand that this crisis would continue to bring financial distress to our members. Hence, AFPSLAI shall implement the following:
Extension of the 30-day suspension of loan payments and other related interests for another 30 days effective May 2020 for all types of loans paid through salary/pension deduction. Thus, there will be no penalty charges for the deferred payments for April and May under automatic deductions.
Similarly, there will be no penalty charges for over-the-counter (OTC) payments on loans due from March 16 to May 15, 2020, provided that payments are made on or before May 22, 2020.
We are committed to helping our members, especially our frontline heroes, during this difficult time.
AFPSLAI Management
---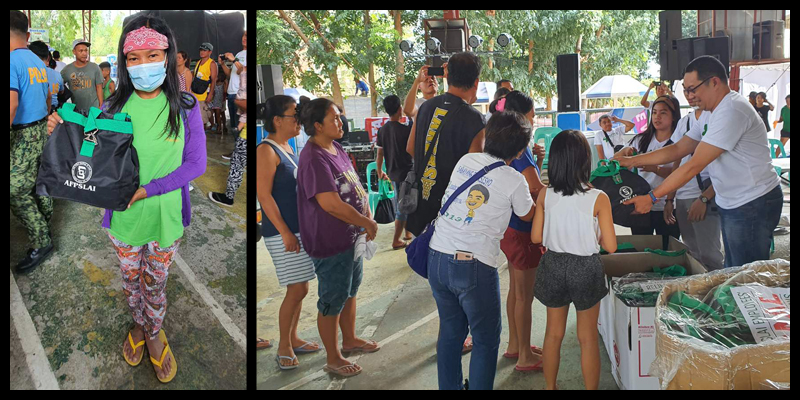 Taal Volcano Victims Receive Aid from AFPSLAI
Last January 30, 2020, AFPSLAI conducted relief operations to help the residents in Batangas affected by the eruption of Taal Volcano.
AFPSLAI employees pooled their resources to donate water, canned goods, toiletries, clothes, pillows, towels, sleeping mats, and blankets.
The relief operation team, composed of employees from Corporate Affairs Division and AFPSLAI Lucena Branch, together with some volunteers from the AFP, brought the relief goods to the victims who are taking temporary shelter in Bauan Technical High School and Batangas Police Provincial Office.
---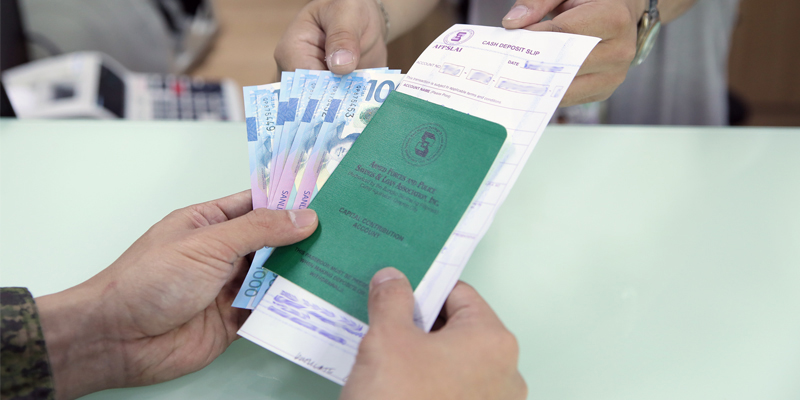 Great News to All AFPSLAI Regular Members
Quarterly placement for Capital Contribution Account (CCA) is now increased to ₱150,000! Terms & Conditions:
Implementation of new placement limit starts in October 2019
Valid only through salary or pension deduction
Maximum quarterly CCA placement limit is inclusive of over-the-counter deposit of ₱15,000
Save money. Save time. AUTOMATE YOUR SAVINGS NOW! For inquiries, you may visit any AFPSLAI Branch or Extension Office nearest you!
---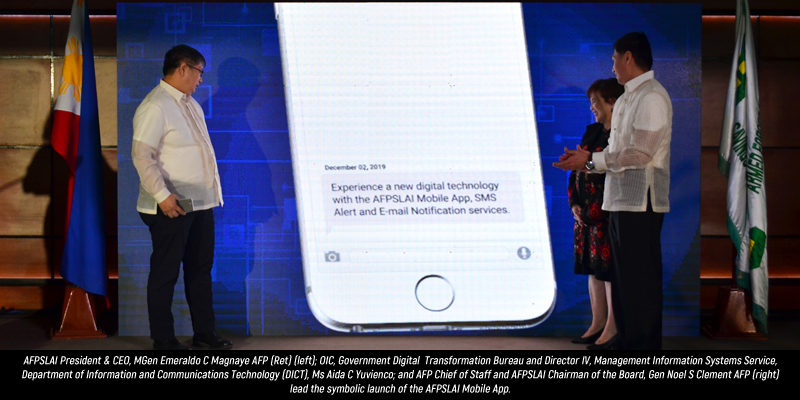 AFPSLAI Celebrates 47th Anniversary with Launch of New Services
On December 2, 2019, the Armed Forces and Police Savings & Loan Association, Inc. (AFPSLAI) celebrated its 47th Founding Anniversary with the theme, "Fostering Innovation through Digital Transformation".
One of the highlights of the celebration is the launch of the AFPSLAI Mobile App that will allow members to monitor their deposit and loan balances, view recent transactions, apply for loans and open a savings deposit account. Aside from the convenience the App provides, it also helps members to have better control of their finances.
AFPSLAI has also announced the availability of its enhanced SMS and e-mail services. With the upgraded versions, members will now be able to receive SMS alerts on their withdrawal and loan transactions, promos, and other advisories. Those who will register their e-mail addresses will be able to receive important advisories, promos, latest news, and letters pertaining to the status of their loan and deposit accounts.
Members must personally fill-out the Registration Form at the nearest Branch Office to be able to download and to access the AFPSLAI Mobile App; to receive alerts thru SMS; and to receive e-mail. Members whose membership record have not been updated for at least three years need to update their membership prior to registration.
For these services, AFPSLAI tied up with technology partners, Consolsys and Infobip.
The program was also highlighted by the recognition of the awardees of the Excellence Awards for 2019.
Present during the program were Director of Management Information Systems Service, Department of Information and Communications Technology and the Officer-In-Charge of the Government Digital Transformation Bureau, Director Aida C Yuvienco; AFP Chief of Staff and AFPSLAI Chairman of the Board of Trustees, Gen Noel S Clement AFP; Vice Chairman MGen Romeo D Lustestica AFP (Ret); other members of the Board of Trustees, Guests, and Head Office and Branch Office managers, supervisors and personnel.
---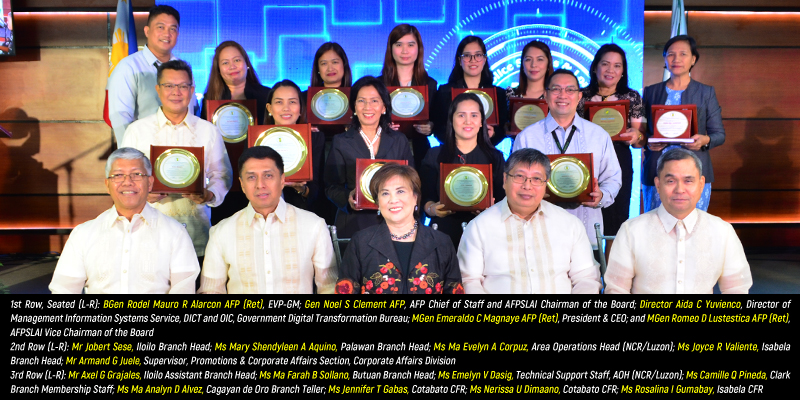 AFPSLAI Recognizes Outstanding Employees and Branch of the Year
AFPSLAI promotes a culture of excellence not only for its members, but also for its employees. The sustained success of the Association is significantly credited to its workforce. Thus, awards were conferred to deserving employees during the formal program of AFPSLAI's 47th Anniversary on December 2, 2019.
The Outstanding Civilian Field Representative (CFR) of the Year award recognizes the deserving CFRs who have contributed to the overall net loan production of their respective areas/branches.
Qualified candidates for the Employee, Supervisor and Manager of the Year were evaluated based on the following parameters: Commitment & Dependability, Feedback, Significant Accomplishments, and Personality & Work-Life Balance. The recognition is given to employees for their exemplary performance insofar as personnel, operational and model administrative management of their unit/individual tasks is concerned, thereby contributing invaluably to the overall success of the Association.
Lastly, the Outstanding Branch Office of the Year recognition is bestowed to the deserving branch office's exemplary contributions to the Association's overall objectives in the pursuit of operational and service excellence.
The following are the list of winners of AFPSLAI Excellence Awards 2019:
MS JENNIFER T GABAS – CFR of the Year 2019
MS ROSALINA I GUMABAY – CFR of the Year 2019 - 1st Runner-up
MS NERISSA U DIMAANO – CFR of the Year 2019 - 2nd Runner-up
MS EMELYN V DASIG – Employee of the Year 2019 (Head Office Category)
MS CAMILLE Q PINEDA – Employee of the Year 2019 (NCR/Luzon Branch Office Category)
MS ANALYN D ALVEZ – Employee of the Year 2019 (Visayas/Mindanao Branch Office Category)
MR ARMAND G JUELE – Supervisor of the Year 2019 (Head Office Category)
MR AXEL G GRAJALES – Supervisor of the Year 2019 (Branch Office Category)
MS MA EVELYN A CORPUZ – Manager of the Year 2019 (Head Office Category)
MS JOYCE R VALIENTE – Manager of the Year (Branch Office Category)
PALAWAN BRANCH – Branch Office of the Year 2019
BUTUAN BRANCH – Branch Office of the Year 2019 - 1st Runner-up
ILOILO BRANCH – Branch Office of the Year 2019 - 2nd Runner-up
Congratulations to all the Excellence Awardees!
---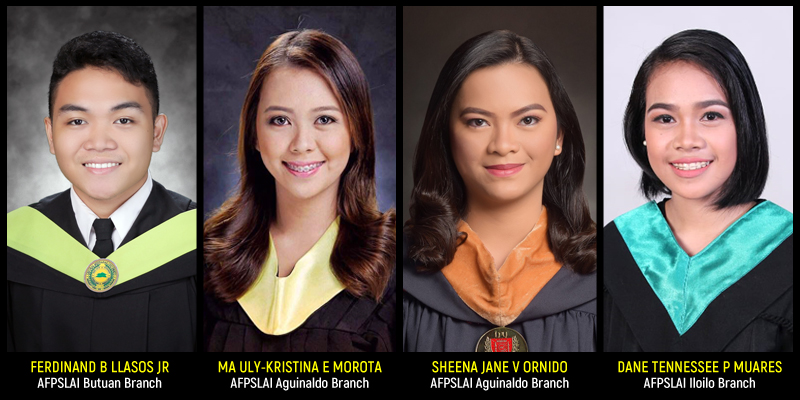 AFPSLAI Scholars Soaring High!
Four (4) AFPSLAI Scholars are now registered professionals as they passed their respective licensure exams.
AFPSLAI scholar-graduates Mr Ferdinand B Llasos Jr of Central Mindanao University and Ms Sheena Jane V Ornido of Lyceum of the Philippines University – Manila are now licensed professionals. Mr Llasos is now a certified public accountant while Ms Ornido is a registered customs broker. Both scholars graduated Cum Laude.
Ms Ma Uly-Kristina E Morota of Centrol Escolar University – Makati passed the Psychometrician Licensure Examination held in October 2019.
On the other hand, Iloilo Doctors' College graduate Ms Dane Tennessee P Muares is a registered nurse after she passed her licensure exam in November 2019.
AFPSLAI is just as proud as the families of these scholars who pursue excellence in their chosen fields. Congratulations and may you serve as inspiration to our existing scholars!
---