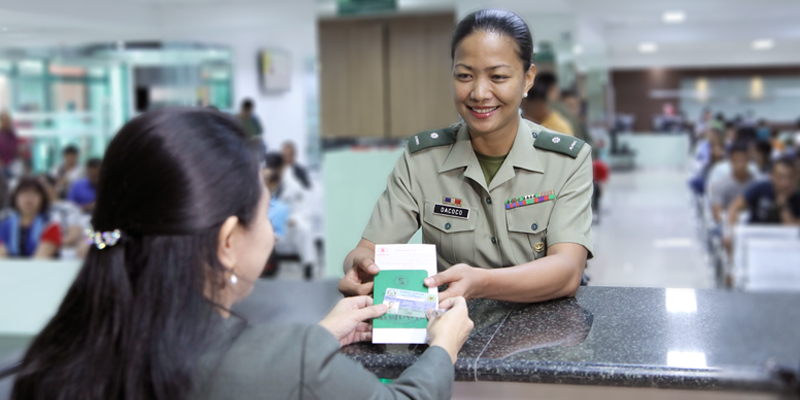 Capital Contribution Account
A deposit product which provides higher earnings than investment in commercial banks.
FEATURES

Type: 001 Green Passbook
Earns high dividends, TAX FREE!
Minimum maintaining balance is ₱1,000
Maximum Capital Contribution Account (CCA) Balance:

For Regular Members - ₱3 Million
For Associate Members - ₱1 Million

For Regular Members, maximum deposit per quarter is ₱75,000 (inclusive of ₱15,000 over-the-counter deposit)
For Associate Members, over-the-counter deposits are currently not allowed
Last day of placement is on the 3rd working day of January (1st quarter), April (2nd quarter), July (3rd quarter) and October (4th quarter)
Regular and Associate Members maintaining joint accounts can apply for Survivorship Agreement
Procedures
After processing the membership of applicant, Membership Staff issues the AFPSLAI ID and CCA passbook to member.
Membership Staff advises the new member to proceed to the teller to deposit the required maintaining balance of Php 1,000
FAQs
Q: How much is the maximum amount of deposit for Regular Members?
A: Regular Members who are still building up to reach the Php 3M CCA ceiling may place a maximum of Php 15,000 per quarter through over-the-counter deposit. If the members wish to avail of the automatic monthly Capital Contribution deduction scheme through Salary or Pension, they may deposit a maximum of Php 75,000 per quarter (or Php 25,000 per month). In which case, over-the-counter deposit is no longer allowed.
Q: Why are Associate members unable to deposit on their Capital Contribution Accounts starting October 6, 2016?
A: Pursuant to AFPSLAI Board Resolution No. 2016-009-8089, AFPSLAI no longer accepts capital contribution deposit through over-the-counter (OTC) transactions for Associate Members. This policy aims to maintain a proper balance between the various stakeholders' interests, improve efficiency and ensure future growth of the Association. There is still no advisory from the Board as to when the said stoppage will be lifted.
Q: How often does AFPSLAI declare dividends?
A: Pursuant to BSP Circular 789, AFPSLAI declares dividends annually. Annual Dividend rate is declared upon finalization of the audited financial statements. Rate is subject to approval by the BSP.
Q: How many co-depositors are allowed in the CCA?
A: Maximum of two (2) co-depositors are allowed in the CCA, who should also be members of the Association.
Q: What happens if the CCA balance goes below the minimum maintaining balance of Php 1,000?
A: Once the CCA balance goes below Php 1,000, membership of the member will be terminated.
Q: What does "tax free" mean?
A: The dividends and interests earned on deposits are not subject to withholding and income taxes. For example, if your dividend is Php 100, you will receive the entire amount as earnings for your deposit.
Q: Why does my passbook have a Loan Offsetting (LOS) entry?
A: If your passbook has an LOS entry, you may ask our Loans personnel about this. Having an LOS entry means that you may not have paid your monthly loan amortization in full, have a past due loan, or have arrearages.
Q: What is a Survivorship Agreement?
A: A Survivorship Agreement is an arrangement mutually agreed into by the depositor's joint accounts so that in case of death of one depositor, the total outstanding balance of the account jointly owned by the parties shall be automatically transferred to the surviving co-depositor, subject to deductions of deceased member's obligations. All AFPSLAI members (regular and associate) maintaining a joint account can apply for Survivorship Agreement.
Both account owners (principal and co-depositors) must be physically present to sign the Survivorship Agreement Form.
Q: Why don't I have dividend?
A: There are several reasons why a member doesn't have dividend. Below are the common ones:
CCA below the Php 1,000 maintaining balance.
Members with past due loans.

Dividends are released only when the member's loan becomes current. You may visit any branch to verify your account.
Q: Why didn't my recent deposit earn dividend?
A: Only deposits made before or during the placement period will be considered for dividend computation. Withdrawals made during the quarter may also affect the dividend computation since only the lowest balance for the quarter will be considered.
Q: Since forced savings deductions made in my salary is every 15th of the month, when can I withdraw my monthly capital contribution from AFPSLAI?
A: Capital contribution deductions can only be withdrawn upon remittance of Finance Center and posting of the amount by AFPSLAI into your account.
Q: Can I have a co-depositor who is not an AFPSLAI member?
A: No, co-depositor should be a member of AFPSLAI.
Q: Can other persons deposit on my behalf?
A: Yes, possession of your passbook by your duly authorized representative when making a deposit is allowed. It is assumed and deemed that you have knowledge of such deposit transaction.
Q: Can a representative fill-in the amount or date on the withdrawal slip as authorized by the account holder?
A: No, the account holder must fill in all the required information on the withdrawal slip except the signature of the authorized representative. The AFPSLAI ID of the account holder must also be in the possession of the authorized representative during the transaction.
Q: What are the requirements for withdrawal thru representative?
A: The following are the requirements for withdrawal thru representative:
For Php 50,000 and below

Fully accomplished withdrawal slip by the owner of the passbook
In case of joint account, signature of authorizing depositor is required in the "FOR JOINT ACCOUNTS/REPRESENTATIVES" portion of the withdrawal slip
AFPSLAI ID or any valid ID of the depositor
AFPSLAI passbook
Two (2) valid IDs of representative

For above Php 50,000

Same requirements as above
Special Power of Attorney (SPA)

If the member affixes his/her thumbmark as signature
First withdrawal transaction

SPA
Medical certificate
House/hospital visit by Member Services Staff (to be scheduled)

Succeeding withdrawal transaction

SPA
Medical certificate
Proof of life wherein a photo of the depositor is holding the latest newspaper, first page of which must be submitted to the Teller. The photo should be taken no longer than 2 days before the actual transaction.
Q: How long is the validity of a Special Power of Attorney (SPA)?
A: Validity of SPA is as follows:
ACCOUNT TYPE
ISSUANCE
VALIDITY
For 01, 02 and 016 accounts
Locally secured
One (1) year
Secured abroad (authenticated by the Philippine Embassy or Consulate in that country)
Two (2) years
For pension accounts
Locally secured
Six (6) months
Secured abroad
Validity period depends on the judgment of Finance personnel
Q: Can I withdraw if my passbook is lost?
A: No, book withdrawal is only allowed for single account holders while Joint Account holders are not allowed to withdraw if the passbook is lost.
Loss of passbook must be declared by submitting a notarized Affidavit of Loss to the Member Services Staff. The membership of the depositor is put on hold until such time that a new passbook has been issued.
Q: Where can I get my overpayments, in CCA or in SDA?
A: Overpayments and forced savings can be withdrawn in your CCA. On the other hand, rebates, CRI refunds, loan proceeds, excess dividend and PNL deduction can be withdrawn in your SDA.
Q: I did not make any withdrawal transactions during a certain period of time. But why are there withdrawal transactions reflected on my passbook in that time?
A: There are several reasons why there are transactions reflected in the withdrawal section of the passbook, such as loan offsetting, reversal of posted EDA (annual) adjustments and account receivables. It is best to inquire at the nearest AFPSLAI Branch or Extension Office where our friendly staff will explain the items posted on the passbook.
DOWNLOADABLE FORM: