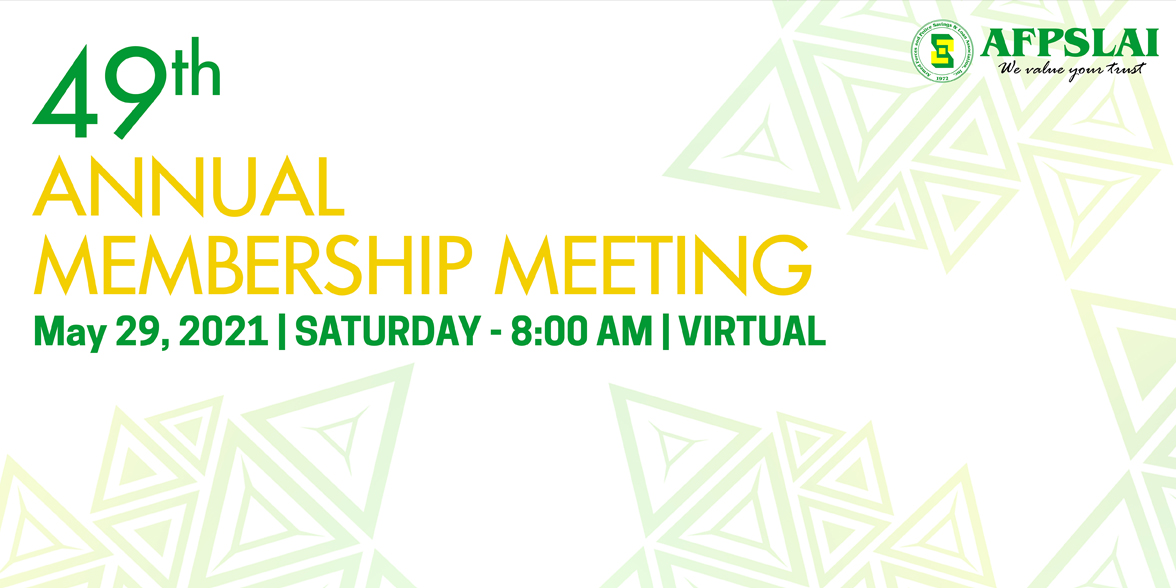 NOTICE AND AGENDA OF 49th ANNUAL MEMBERSHIP MEETING
In view of the COVID pandemic and the restriction on mass gatherings, the 49th Annual Membership Meeting of the Armed Forces and Police Savings & Loan Association, Inc. (AFPSLAI) will be held virtually on May 29, 2021 (Saturday) at 8:00 a.m.
The agenda for the meeting is as follows:
Call to Order
Proof of Notice of the Meeting
Determination of Quorum
Opening Remarks
Approval of the Minutes of the Previous Annual Membership Meeting held on July 25, 2020
Matters Arising from the Minutes
Report of the President & CEO
Ratification of the Acts and Resolutions of the Board of Trustees, Corporate Officers and Management
Election of the Board of Trustees for the year 2021-2022
Proclamation of the Winning Candidates
Other Matters
Adjournment
Regular members of record as of April 30, 2021 are entitled to participate and vote. Members who intend to attend the meeting are requested to register through the Member Registration System (MRS) located in the AFPSLAI website, www.afpslai.com.ph, from April 16, 2021 until 5:00 p.m. of May 7, 2021. Successful registrations will receive an email, which includes a link to the Member Voting System, member's number of votes, and AMM-related materials.
Due to limitations on available technology, there will be no voting during the actual virtual meeting. Members may vote through proxy or in absentia using the Member Voting System from May 10, 2021 until 5:00 p.m. of May 24, 2021. Members may also send their comments and questions through the Member Voting System. Questions will be addressed during the actual meeting. Those that cannot be accommodated due to time constraints will be answered by Management through e-mail.
For those who won't be able to attend the meeting, proxy forms are available in the Branch Offices and may also be downloaded from the website. Duly accomplished form must be submitted in any branch office until 5:00 p.m. of May 14, 2021.
There will be audio and visual recording of the Meeting.
Members seeking nomination to the Board may download the Nomination Form from the AFPSLAI website. Duly filled-out Nomination Form must be submitted to the Corporate Secretary at 4th Floor, Office of the Board Secretariat, AFPSLAI Building, Camp Aguinaldo, Quezon City or through e-mail at ladalisay@afpslai.com.ph until 5:00 p.m. of April 16, 2021.
For AMM-related inquiries, kindly send them through e-mail at amm@afpslai.com.ph.
ATTY SAMUEL B. PADILLA
Corporate Secretary