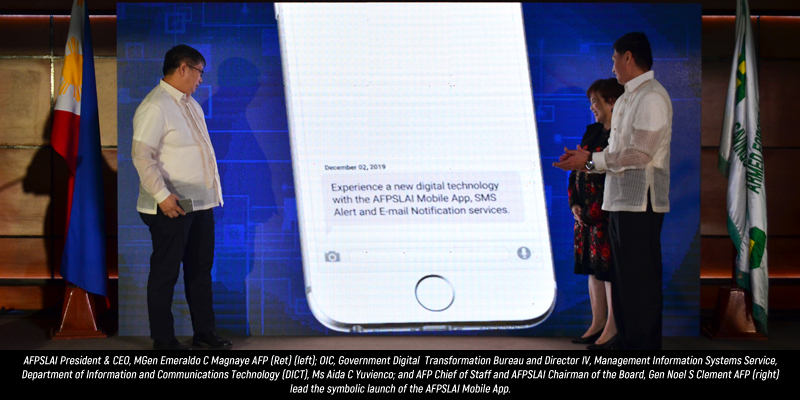 AFPSLAI Celebrates 47th Anniversary with Launch of New Services
On December 2, 2019, the Armed Forces and Police Savings & Loan Association, Inc. (AFPSLAI) celebrated its 47th Founding Anniversary with the theme, "Fostering Innovation through Digital Transformation".
One of the highlights of the celebration is the launch of the AFPSLAI Mobile App that will allow members to monitor their deposit and loan balances, view recent transactions, apply for loans and open a savings deposit account. Aside from the convenience the App provides, it also helps members to have better control of their finances.
AFPSLAI has also announced the availability of its enhanced SMS and e-mail services. With the upgraded versions, members will now be able to receive SMS alerts on their withdrawal and loan transactions, promos, and other advisories. Those who will register their e-mail addresses will be able to receive important advisories, promos, latest news, and letters pertaining to the status of their loan and deposit accounts.
Members must personally fill-out the Registration Form at the nearest Branch Office to be able to download and to access the AFPSLAI Mobile App; to receive alerts thru SMS; and to receive e-mail. Members whose membership record have not been updated for at least three years need to update their membership prior to registration.
For these services, AFPSLAI tied up with technology partners, Consolsys and Infobip.
The program was also highlighted by the recognition of the awardees of the Excellence Awards for 2019.
Present during the program were Director of Management Information Systems Service, Department of Information and Communications Technology and the Officer-In-Charge of the Government Digital Transformation Bureau, Director Aida C Yuvienco; AFP Chief of Staff and AFPSLAI Chairman of the Board of Trustees, Gen Noel S Clement AFP; Vice Chairman MGen Romeo D Lustestica AFP (Ret); other members of the Board of Trustees, Guests, and Head Office and Branch Office managers, supervisors and personnel.