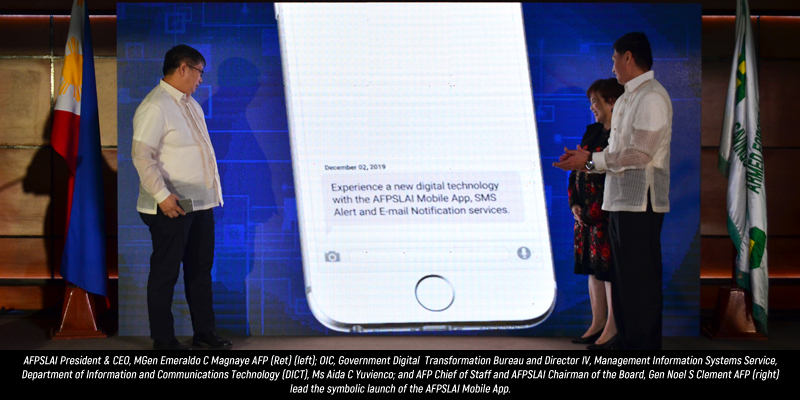 AFPSLAI Honored by PNP, Hands Over Donation of Ambulance and Emergency Room
The Armed Forces and Police Savings & Loan Association, Inc (AFPSLAI) received a Plaque of Recognition from the Philippine National Police (PNP) on August 30, 2019 during the PNP's 26th Health Service Anniversary Celebration held at the PNP Multi-Purpose Hall, Camp Crame, Quezon City. AFPSLAI President & CEO MGen Emeraldo C Magnaye AFP (Ret) received the award from Chief, PNP, PGen Oscar D Albayalde; Director, Health Service, PBGen John D Luglug; and other PNP Officers. The award was given to AFPSLAI in recognition of its contributions to the effective attainment of PNP Health Service's mission, goals, and objectives.
The event was followed by the blessing and ribbon-cutting of the newly-renovated Emergency Room and Health Information Management Section (HIMS) of the PNP General Hospital in Camp Crame and the handover of AFPSLAI's donation of one (1) Toyota Hi-Ace ambulance unit. Also present during the ceremony were AFPSLAI Trustees PMGen Edwin C Roque and PBGen Joselito M Vera Cruz; AFPSLAI SVP for Administration, MGen Enrique C Reyes AFP (Ret); and AFPSLAI SVP for Treasury, PBGen Roberto L Aliggayu (Ret).
The P5.68M Emergency Room renovation project and donation of ambulance highlight AFPSLAI's commitment to providing quality health care services to the men and women of the PNP and their dependents.