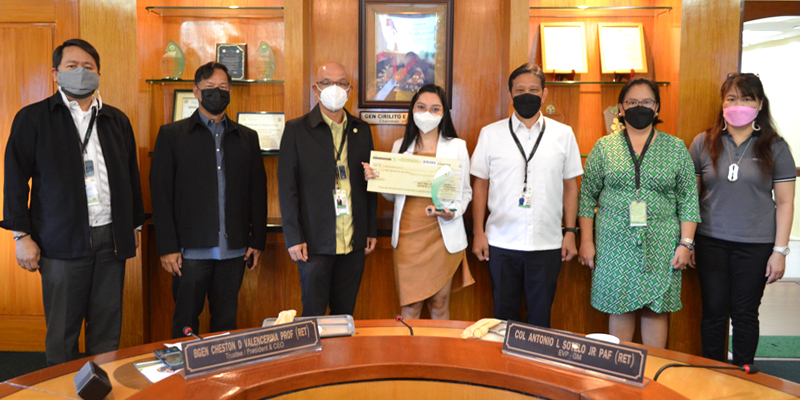 AFPSLAI Recognizes its scholar-graduate for AY 2020-2021
The Armed Forces and Police Savings & Loan Association, Inc (AFPSLAI) held a simple program honoring its one and only graduate for Academic Year 2020-2021, Ms Antonette Kim Lero, last August 25, 2021 (Wednesday) at the BOT Room, AFPSLAI Head Office, Camp Aguinaldo, Quezon City. .
As a scholar-graduate, Ms Lero received a plaque of recognition and a gift watch. She was also given a cash incentive of Php 20,000 for having completed her Bachelor's degree in Optometry at Centro Escolar University with Latin Honors (Cum Laude).
In her speech, Ms Lero mentioned that she acquired three (3) hard-earned values during her years as an AFPSLAI Educational Grantee – first is generosity as the program molded her to become a person who is willing to help anyone the best way she can; second is perseverance as being a scholar taught her the value of hard work; and lastly, giving compassion to the people she will be serving in the future.
The event was capped off with a message from AFPSLAI President & CEO BGen Cheston D Valencerina (Ret). He advised Ms Lero to stay focused and give her best as she prepares for her licensure examination, and to create a future that she is very passionate about.
The Educational Grant Program (EGP) is one of the Corporate Social Responsibility (CSR) initiatives of AFPSLAI. Since 2002, AFPSLAI has continued to provide financial assistance to the underprivileged but deserving dependents of Regular Members. To date, the AFPSLAI has produced 294 graduates, 101 of whom graduated with honors.