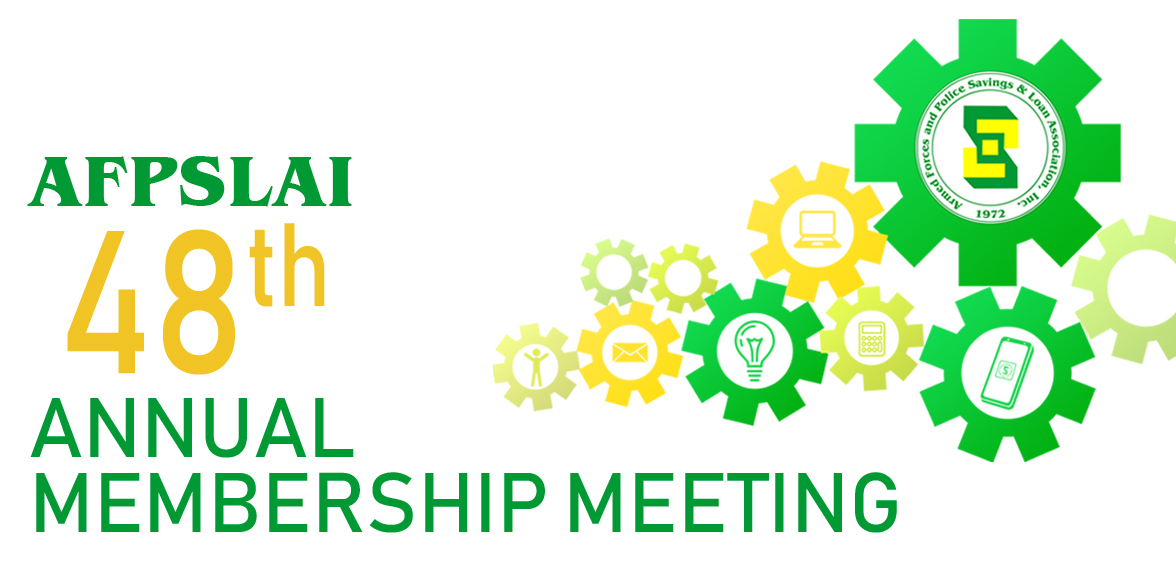 Highlights of AFPSLAI's 48th Annual Membership Meeting
In view of the COVID pandemic and the restriction on mass gatherings, AFPSLAI virtually held its 48th Annual Membership Meeting on July 25, 2020 (Saturday) at 8:00 a.m. via Zoom application. Regular members participated in the virtual meeting for the review of the Association's accomplishments for the year 2019 through the President's Report; approval of the amendments to the Articles of Incorporation and the By-Laws; and election of the Board of Trustees for Y2020-2021.
In his Opening Remarks, the AFP Chief of Staff and AFPSLAI Chairman of the Board of Trustees, Gen Felipe T Santos Jr PA, said that AFPSLAI capped the year 2019 with a strong financial performance amidst regulatory and policy reforms, and intense competition from other financial institutions. For the year 2019, AFPSLAI focused on the enhancement of its products and services that are attuned to the varying needs of the members; the improvement of its infrastructures, core business processes, internal control, compliance and risk management in order to maintain the momentum of solid growth; and the performance of dynamic initiatives towards digital transformation to stay competitive and relevant in the fast changing business environment. These achievements speak of the Association's stern commitment towards operational excellence, judicious financial planning & management, and customer-centric organizational culture. More than ever, Gen Santos Jr expressed that AFPSLAI has taken the challenges brought by COVID-19 to further enforce the resolve of the Association and demonstrate its corporate value of malasakit sa miyembro, sa kumpanya, at sa bansa.
The message of Gen Santos Jr was then followed by the Report of then President & CEO MGen Emeraldo C Magnaye PAF (Ret), which focused on the financial and operational highlights of AFPSLAI, as well as the Association's initiatives on corporate social responsibility and its future outlook as the country shifts to the "new normal" due to the current global health crisis. MGen Magnaye ended his speech by extending his gratitude to all the members for their continuing support and patronage; to the Board of Trustees for their guidance and oversight; and to the AFPSLAI Management Team and employees for their untiring commitment.
At the end of the meeting, cash prizes were raffled off using a software developed by the AFPSLAI Information Systems Division (ISD). Minor prizes had been pre-drawn the day before the meeting. The cash prize will be deposited to the Savings Account of the winning member. The raffle was facilitated by the Raffle Committee and IT Support Committee, and supervised by the Audit Committee. The winners are listed below.
On the other hand, those who registered and actually participated in the virtual meeting will receive a free meal from Jollibee. An e-coupon code will be sent to the e-mail address of the participating member. To claim the free meal, the member must present the e-coupon code at any Jollibee restaurant nationwide. Redemption is valid until September 25, 2020.